It is now done and dusted. And as usual, it is unusual. And what is it? In his same manner of doing things differently from all other Celestial Churches, Prophet Israel Oladele Ogundipe, Senior Shepherd-in-Charge, Celestial Church of God Genesis Global, has brought a Fuji music legend who is not just a Muslim but also an Alhaji, King Wasiu Ayinde Anifowoshe popularly known as K1, to perform on the altar for more than an hour at their Celebration of Harvest 2019. When this writer first broke the news online some days ago that K1 was going to make an appearance at the harvest and would probably perform on the altar for Church members, many doubted it while some stated that he was only going to be a guest of the Prophet better referred to as Genesis, and nothing more, just to argue that K1 was not going to sing on the altar. But the day has come and gone and K1 has performed at the Church, on the altar!
Determined to follow up on the story, this writer arrived the premises of the Church situated at 8/12 Duro Ishola Street, Off Egbado Road, Dalemo-Alakuko, Lagos State, some minutes to 10 on the morning of Sunday, 15th December 2019. At that time the place was already jam-packed by Church members from the entrance into the street to the main auditorium of the Church with them mostly dressed in their white garment and insignificant few appearing in ordinary clothes. It took this writer journalistic manoeuvring of a reporter to get access to the Media Gallery in the Church as people were already being denied access since the inside of the auditorium was already filled to the brim. Having entered, this reporter who could not find a seat took a position to stand at a vantage point up in the Media Gallery and kept watching events as they unfolded.
some of the things which make his Church different from all other Celestial Churches
At the time of the entry of this reporter, Genesis was yet to make his entry into the Church and what was ongoing was singing and dancing like it is akin to all Celestial Churches. But a little bit later, his voice on the microphone announced the entrance of the man of the moment to everyone, especially those who their mobile phones had drifted their attention away from what was happening on the altar. And like he always does, the Prophet in his oratory finesse began by making everyone understand some of the things which make his Church different from all other Celestial Churches and he said:
No transparent Sutana (white garment)
No heavy pieces of jewellery
As anyone who is found wanting in those regards would be turned back by security guards as instructed.
He thereafter stated that unlike all other Celestial Churches, Genesis Global did not have a concert on a Friday preceding their day of harvest.
the man of God later warned and cursed
And wait for this: the man of God later warned and cursed. He said categorically that none of his Church members should take anything alcoholic on the day of their harvest because anyone who dared to do that would be poorer than his generations! And that is not all. He added that whoever took alcohol against his stern warning would have cancer 3 days after! And another shocker he unleashed at the harvest was the fact that the Officiating Pastor that was detailed from the headquarters of Celestial Churches to come and preach at the Church had not shown up in time according to schedule and that he had called the man's number twice without him picking up or returning the call. Therefore, he would be overriding the man and would be preaching by himself and that even if the man showed up afterwards, he would be told he came too late and would only be given a chair to sit and watch. Talk of a radical prophet and you have a good one in Genesis.
an accusation against Pastor Tibetan
He then made a particular accusation against Pastor Tibetan that few days to the ongoing harvest, he sent or probably hypnotized a 24-year-old male member of his Elisha's Parish Church to infiltrate members of Genesis Global, find his way to a disused well they have in the Church, jump into it and probably die in the well such that, he, Genesis would be roped for his murder. He explained that the scheme was to soil his name that he used the man for rituals against the upcoming harvest. Hence, police would be brought in, his picture would be taken with the man's corpse and Genesis would be disgraced finally. But he thanked God for some of his Church members who were observant enough and were able to avert the situation by arresting the man sent in before he could accomplish his "suicide mission". He added that the man was taken to Alakuko Police Station where he confessed to the evil plan, made to write a statement before he told the police to allow him to go.
Muslim Background and greeting of guests
Continuing his very dramatic and engaging preaching, Genesis who said he was born a Muslim with the name of Abdul-Wasiu informed everyone that his biological mum was on her way to the harvest too. He noted that the mum who is known as Risikat, her Muslim name, had become a Deaconess of a CAC Church and currently answers to the Christian name of Dorcas also. He thereafter announced the presence of Oba Alagbado, Oba Adedayo Shillion at the harvest before going to the Kabiyesi to prostrate before him in greeting. He said the Oba had been one of his backbones in the ministry. The wife of former Nigerian President, Chief Olusegun Obasanjo, Mrs Bola Obasanjo was also in attendance and she came out to the altar at a point to pray for Genesis and told him, even Baba Obasanjo loved him so much. A dance group called Exclusive Dancers was later invited to the altar to dance to some Christian songs and performed some marvelling stunts to entertain everyone.
Genesis launched into a rehashing of a popular Fuji song
Another high profile guest at the harvest was the number 2 Police Man in Nigeria, Abdul-Majeed Alli, DIG Ops, who was led into the Church by his Police Personal Assistant (PA), Prince Muyiwa Adejobi. Meanwhile, in preparation for the entrance of his beloved mum, Genesis launched into rehashing of a popular Fuji song by the late Fuji music creator, Sikiru Ayinde Barrister with instrumental accompaniment from the choir and the man of God sang thus: " Ma se rere laye mi, ma se rere, ma se rere laye mi ma se rere, emi ose 'ka laye, emi oni se'ka l'orun, emi oni se ibaje omo la'keji..." And instead of singing on that, " Nigeria, which way are we going," like Barrister did in the song, he changed it to, "Celestial, which way are we going..." And almost immediately, he switched to Orlando Owo's Keneri tune of singing as his mum was being ushered into the Church auditorium and led to a special seat prepared for her. He had earlier said that when his mum comes into the Church, she would attest to how his love for K1's music started from childhood as the time the Fuji icon sang "Talazo Disco".
Meanwhile, it was when the DIG Ops was invited to the altar to speak to the Church after he had been offered special prayer by everyone as led by Genesis, to go higher in his job and retire well, whenever he would be retiring, that noise from frenzy of excitement rend the Churches atmosphere suggesting someone very important had just arrived the premises. Lo and behold, the King of Fuji music stepped into the auditorium while the DIG Ops was still talking to the Church and had to hold on for the noise of excitement to die down before continuing to appreciating the members of the Church for praying profusely for him, after welcoming K1 into the midst himself. He stated that Genesis had always been of spiritual support to him, that at a point when he was about to be demoted or dismissed as a police officer, prayers from people like Genesis averted the situation for him and would be eternally grateful to the Prophet.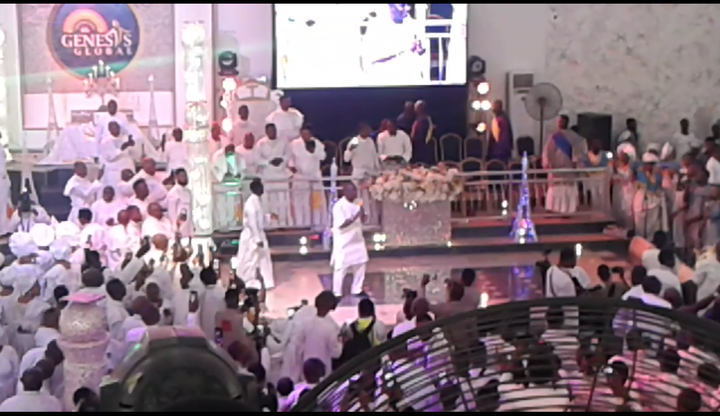 K1's band men took their positions amongst the choir members
Immediately after the DIG Ops' remark, K1's band men took their positions amongst the choir members and the sweet sound of Fuji music to rend the air as Genesis began to dance when K1 started praise-singing him as a man of God with a special anointing. K1 who said he was a Celestial from childhood too, knelt in front of the altar before he started singing some of his popular songs mixed with Christian tweaking and the whole of the Church danced and danced till he dropped the microphone over an hour after. K1 promised to visit again in 2020, before making his exit from the Church amidst cheers of appreciation from the members whose days were made while his electrifying performance lasted.