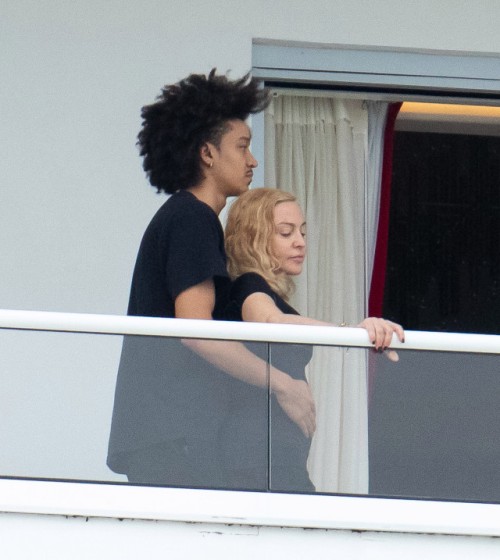 Legendary American singer, Madonna has taken steps to show how serious and committed she is with the relationship she has with her much younger boyfriend as she meets with his family and told the father she loves his son.
The singer's move confirms the rumours that have been swirling for months about her dating Ahlamalik Williams, one of her backup dancers.
Williams' father, Drue, says his son and Madge are 100% definitely an item and it has got serious according to TMZ.
Drue further confirms the duo has been dating for a year. He says they first met back in 2015 when his son auditioned for Madonna's Rebel Heart Tour and Madonna personally picked Ahlamalik out of the group.n September, Madonna met her boyfriend's parents in New York City after one of her shows. Last month, Madonna hosted Ahlamalik's parents at one of her Ceasar's Palace shows. Drue says Madonna invited them to her suite where Madonna's personal chef cooked them all dinner.
Williams' father further says the 61-year-old singer told them she loves their son unconditionally and wants to take care of him. Drue says, "Love has no age." He added, "My son is livin' la Vida Loca, and I'm just happy for him."
Madonna is an American singer, songwriter, actress, and businesswoman. Referred to as the "Queen of Pop" since the 1980s. She is known for pushing the boundaries of songwriting in mainstream popular music and for the imagery she uses on stage and in music videos.
She has frequently reinvented her music and image while maintaining autonomy within the recording industry. Her works have been praised by music critics and have sparked controversy. Madonna is often cited as an influence by other artists