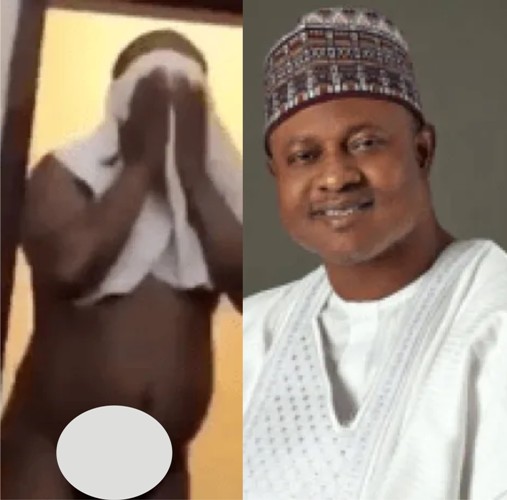 A nude video of a supposed Nigerian Senator cleaning up after having his bath in a hotel room emerged on social media on Wednesday and has sparked mixed reactions. The three seconds video was shared on Twitter and has since gone viral, with over 60,000 views and 1,000 likes on the handle where it was shared.
The Twitter handle which shared the video claimed the man in the video is Senator Uba Sani, the lawmaker who currently represents Kaduna Central at the Senate.
@iTequeMedia wrote:
"Lady shares video of n.a.k.e.d & n.a.s.t.y Nigerian Senator, representing Kaduna Central District."
In the viral footage, the Senator could be seen walking out of the bathroom naked with a small towel which he was using to dry the water on his body.
The reason why the yet-to-be-identified lady filmed and shared the video remains unknown but the video has generated a series of mixed reactions from social media users. While some are condemning the lady who filmed the Senator, others are accusing members of Arewa Twitter of a double standard for not speaking against the 'adulterous act' of the lawmaker the way they condemn young Hausa ladies on the microblogging site for indecency.
As at the time of filing this report, the video is yet to be deleted.
@HenryShield wrote:
So, after having sex with him, you decided to record him cleaning up? Why aren't you in the video or did the man fuck himself? You silly kids should henceforth refrain from tagging me to your stupidity.
@ab_chalz wrote:
The person that recorded this should be arrested, prosecuted and locked up in jail. Women should not be allowed to get away with such nasty behaviour. LOCK HER UP and charge her to court for damages. This is very unacceptable and should be taken seriously.