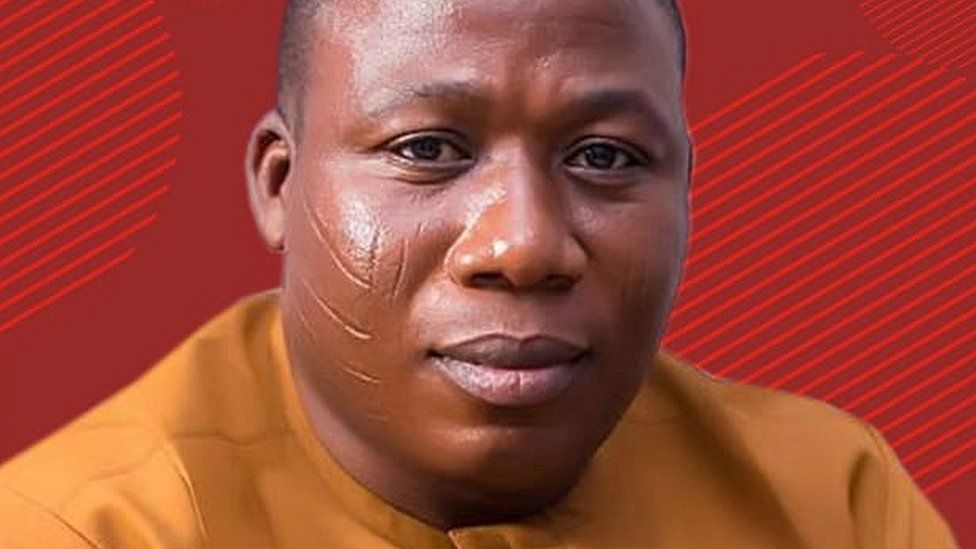 There was an attempt today to arrest the self-acclaimed Yoruba activist, Chief Sunday Adeyemo popularly known as Sunday Igboho, by combined security operatives along the Lagos Ibadan expressway. Reports have it that Sunday Igboho was on his way to Lagos to visit Chief Ayo Adebanjo, a Yoruba leader and an elder statesman.
A group of Nigerian youths have foiled an attempt by heavily armed Military, the Nigerian Police And Department Of State Security Services to arrest the Yoruba nation freedom fighter and human rights activist, Chief Sunday Adeyemo(aka Sunday Igboho Oosha).
Sunday Igboho is a freedom fighter and humanist.
The attempt was made on Saturday morning as his entourage left his abode to embark on a community inspection in one of the local government areas of Oyo State.
The chief's motor entourage was blocked by a combination of Police and DSS officials while an attempt was made to arrest him. The youths in their tens blocked the Federal servicemen from reaching Sunday Igboho after blocking his motorcade and resisting his arrest.
The youths warned the security men to stay away from trouble as the servicemen blocked Sunday entourage and a big feud ensued, resulting in a heavy fracas between the Igboho entourage and the security services.
Confirming the incident, the spokesman to the human rights activist and an Oodua nation frontline agitator, Mr Oluyomi Koiki confirmed the incident and said the incident occurred this morning.
The incidence took on the Lagos-Ibadan expressway close to the Guru Marhaji spiritual haven on Friday.
A source said that 'He was on his way for a meeting with the Afenifere leader, Chief Ayo Adebanjo when suddenly, heavily armed men from state SSS, Military and the Nigerian Police confronted him, threatening to arrest him. He was saved by his long convoy of Yoruba youth supporters on the trip.
Abiodun Adeola, one of his aides confirmed to Irohinoodua that the freedom fighter was molested claiming that the armed men were made up of soldiers, Department of State Security, (DSS) officials and naval officers indicating a well-coordinated incidence.
But a member of the Oodua Peoples Congress, (OPC) on the entourage said the police and the armed men later apologised after the encounter.
"We don't know what happened and why they did what they did. Theý stopped the convoy. They were heavily armed. But after some time they apologise to us" Alhaji Taofik Adeyemi, OPC leader in the team told our correspondent.
In what seems like a confirmation, former Aviation Minister, Femi Fani Kayode aid he spoke to Igboho who confirmed the incidence.
Fani Kayode wrote "I just spoke to my brother Sunday Igboho. He told me there was a violent attempt to arrest him this afternoon by a joint team of soldiers, DSS operatives and policemen numbering about 40 on the Ibadan/Lagos Expressway whilst he was on his way to see Baba Ayo Adebanjo in Lagos."
He said further "I condemn this attempt to ambush and abduct him. It is not only reckless but also very dangerous.
If the security agencies want to see him all they need to do is to invite him to their office. I am not aware of any crime that he has committed and I urge restraint on all sides."
The security men apparently had kept watch on the freedom fighter but there was no confirmation about who sent the security officials.
Chief Igbaho was quoted as having called the Inspector General of Police, Mohammed Adamu and the Federal government to warn the security men from his harassment, saying that he was only duty-bound to preserve lives since the Federal government has failed in its duty to protect and preserve the life of indigenes of Oyo State communities,
He was only discharging his legitimate right of protecting and preserving the dignity of his community in the light of the ongoing unabated killings and kidnappings in Oyo State